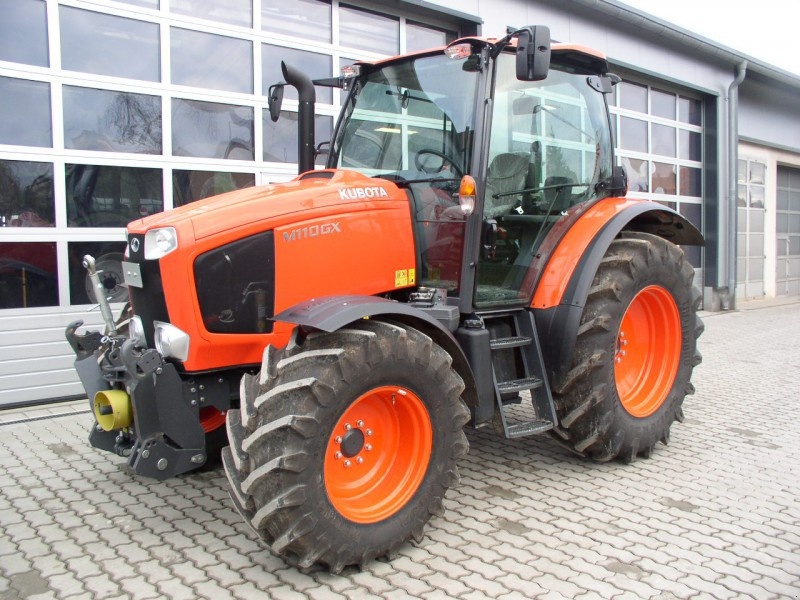 Power-wise, the M110GX has replaced the well-received M108S model, but it represents an all-new comfort level. Completely redesigned cab, powershift transmission, electronic control of the rear hitch and optional passenger seat – all this marks a strong market player in the 110-120 HP power class.
Engine
The 115,6 HP engine of the M110GX features Kubota's Tier IIIB compliant technology. The 4 cylinder, 16-valve, turbocharged powerplant with intercooler is equipped with a catalytic converter and DPF, so no urea-based additives are required to meet the stringent environmental norms
Shuttle
Standard specification of the M110GX includes electro-hydraulic shuttle, so the direction of movement can be changed without touching the clutch. This features is most useful when operating the font loader, as forward-backward sequences may be completed quicker
Front axle
Engine power is transferred to front wheels via a bevel gear shaft in oil bath and installed in a dust-tight casing. This results in an extremely low turning radius: 3,8 m. without braking.
The front and rear axles are equipped with electro-hydraulically controlled differential locks. 4WD can be engaged in motion
Bi-Speed Turn
Kubota's unique Bi-Speed Turn system results in a much tighter turning radius. No unprotected moving parts are applied, as the whole module is fitted in a dust-tight casing. When Bi-speed Turn is engaged and the turning angle exceeds 35 degrees, front wheels accelerate and begin rotating at almost double the speed of rear wheels. Owing to this the minimum turning radius equals 3,5 m.
Hydraulics and rear hitch
Hydraulic pump output of 75,1 L/min (only for the rear hitch and hydraulic outlets) offers the lifting capacity of 5000 kg , 2 pairs of hydraulic outlets as standard and precise control of the rear hitch with the electronic EHR module.
Transmission
The Intelli-Shift transmission offers 24 forward and 24 reverse gears, selected with buttons on the gearshift lever, without engaging the clutch. The transmission on M110GX also features the AUTO mode to automatically engage selected speeds. Maximum speed of the tractor is 39,9 km/h.
Cab
The cab on M110GX is an all-new design. Great visibility in all directions, including upward view on the front loader plus standard air conditioning with air outlets in the dashboard cater for easy and pleasant operation of the machine. This is enhanced by the presence of electronic operator's support system, such as the Work Cruise. This system automatically adjust engine rpm in relation to the work load that the tractor has to deal with. Standard cab features encompass a pneumatic seat with swivel function, as well as a multi-functional armrest that controls the rear hitch and transmission. Passenger seat is available as an option.
Standard features
Front weights, electro-hydraulic shuttle, power steering, air conditioning, creep gear, rear hitch and drawbar, pneumatic seat with swivel function, air brakes for trailers, Bi-Speed Turn, the Work Cruise system, EHR.
Characteristics
3 stopniowa skrzynia biegów